Undefended: Knowing The Score
This week, we're proud to have Greg Wilbur join. Greg is the Dean of New College Franklin and the chief musician at Cornerstone Presbyterian Church in Franklin, Tennessee. He regularly gives very fine lectures at ACCS and SCL conferences.
Greg and regular FilmFisher writers were asked to contribute a list of the greatest film scores of the last twenty years.
Greg Wilbur:
Hans Zimmer, Interstellar: The use of organ and the dissonance are effective elements to the overall narrative.
Patrick Doyle, Thor: For a comic book film, his score created a serious tone and subtle undercurrent to the epic that helped elevate this film.
Howard Shore, Hugo: The playful score established a very appropriate element to the film reminiscent of the early days of movies.
Various, Guardians of the Galaxy: The mix tape worked as both a story element and an integrated soundtrack that created an intriguing juxtaposition of pop culture and space film.
Thomas Newman, Skyfall: Classic Bond themes, exotic locales, Scotland–all good things.
Honorable Mention: Zbigniew Preisner, Bleu: This would be on the top of the list if it weren't for the fact this is a 1993 film and outside the guidelines. However, this is an amazing weaving of music and film in which Kieslowski made the movie around the score.
Joshua Gibbs:
Birth, Alexander Desplat: eery, romantic, heartsick… Desplat develops two major themes and tinkers with them, both by instrument and volume and texture. Most modern scores are nothing more than sinister or benevolent ambient noise, but Desplat composes terrible, beautiful melodies.
The Remains of the Day, Richard Robbins: elegant and dignified, but quite somber, much like the hero and heroine.
The Grand Budapest Hotel, Alexander Desplat: Desplat is capable of following Mothersbaugh's work for Wes Anderson, but Desplat has heavier lifting. "Hotel" was the first Anderson film to feature no popular music, and the film was an elegy for Western culture while previous Anderson films have celebrated 20th century pop sentiment. But the film is quite funny, too, and needs a score that does not contradict comedy. Desplat doesn't merely keep the plates spinning. He paints them while in motion.
Gattaca, Michael Nyman: Nyman's score captures the silver and azure color palette of the cinematography. That silver is luminous, enlightened, precise. But the azure is ethereal, heavenly, but full of mourning, as well.
Jurassic Park, John Williams: the man understands dinosaurs… what else can I say?
Remy Wilkins:
The Fountain: Increasingly the film is absurd to me (using his wife as a diving board to the divine? Ha!), but Clint Mansell's score does all the heavy lifting.
The Last of the Mohicans: I'm sorry, you may think it's lame, but whenever I run I either hear Trevor Jones' and Randy Edelman's soundtrack or the Magnum P.I. theme song so…
Three Colors: Blue: Zbigniew Preisner is a superstar. Wagnerian and big without the orchestral honking of Hans Zimmer.
Sunshine: John Murphy's score perfectly attunes the audience to the action at hand while demonstrating quite a range, from terror to tickled, awestruck to romantic.
Days of Heaven: Malick's films are so lush visually that you might be surprised how wonderful they are just to listen to. Tree of Life is the most resplendent, but most of Alexandre Desplat's score was shunted aside by previous compositions. So since this list is on original scores I'll take Ennio Morricone's.
Fraser Martens:
Michael Giacchino, Up: Up changes tones and moods on a dime, whirling from personal drama to adventure serial, and Giacchino – who's currently one of the most reliable composers working – follows each twist without veering into caricature.
Jonny Greenwood, There Will Be Blood: Writing "Exit Music (For A Film)" for *Romeo + Juliet *was a better isolated piece, but Greenwoods crackling, disorienting score helps Anderson keep us uneasy with what would traditionally have been spun as a happy story.
Trent Reznor, The Social Network: Similar to There Will Be Blood, Reznor's simmering electronica isn't at all what you would expect, but that surprise sets the mood perfectly.
Alexandre Desplat, Moonrise Kingdom: Much more traditional – DeSplat, who's doing great work with Wes Anderson and others, works with and around the Britten music in the plot to suggest innocence revisited.
David Holmes, Ocean's 13: Many people have tried to make me feel bad for thinking each Ocean's movie is better than its predecessor. All have failed. Soderbergh's increasing panache wouldn't be half as enjoyable if it weren't matched with David Holmes' 21st-century revisiting of 60's jazz.
Honourable mention: Howard Shore, The Fellowship of the Ring
Dishonourable mention: Hans "BWAAAAAAMP!" Zimmer, seemingly everything
Joshua Stevenson:
Jon Brion, I Heart Huckabees This could easily have been Punch Drunk Love, or most anything else Brion has done. But this one is light and fun, nearly transcendently light and fun—like angels licking lollipops of sunlight. This American Life over-used a couple tracks from this soundtrack for years, but who can blame them? The music here codifies a band of moods that doesn't exist just about anywhere else.
Mark Mothersbaugh, Rushmore: The composed, baroque soundtrack helps keep up the façade that Max is in control. Obviously, a variety of angry young man British Invasion songs war against that, and voice his internal, adolescent state. But that wouldn't mean much without the Apollonian exterior.
Kevin Shields, Lost in Translation: I'm not a My Bloody Valentine fan—I probably hadn't heard them before this movie. But the music, "themes", and images vibrate against each other with intense resonances. There's an out of control quality to the layered distortion, but it's contained and even restrained, the way that the principle characters' emotional states are. It's detached and melancholy, and beautiful.
Beck, Nacho Libre: Beck wasn't really responsible for this score. Due to studio interference, he was replaced by Danny Elfman. But Beck's presence here is identifiable. It's maybe better considered as a potential score, which might actually make it better. As solid as the Beck contributions are, the real hero is whoever decided to include "Saint Behind the Glass" by Los Lobos, which is in the running for one the great songs.
Michael Andrews, Me You and Everyone We Know: I didn't like the movie, but the sound palette is incredibly evocative—comfortable and dissociated, childish and disturbing. I think about it as soon as I think about soundtracks.
I'm not a huge LOTR fan, but seriously, I don't think the music is that bad. The main ring theme is evocative and, I think, super effective.
The M83 score for Oblivion matched the movie perfectly, in that it was boring and sucked.
Nate Douglas:
Yann Tiersen, Amelie: Very French—captures joyous wonderment, tastes like wine and baguettes paired with dreams and imagination.
John Williams, The Empire Strikes Back/Jaws: Because awesomeness doesn't need to be defended.
Vangelis, Chariots of Fire: Electronics that were radical for its time, yet still holds up, along with Blade Runner the year after.
Cliff Martinez, The Knick: The Knick is a television series, not a film, but that hasn't stopped us before. It isn't period music, but Soderbergh is telling stories that ring true today, hence the score.
Alexandre Desplat, The Tree of Life: Relegated to transitions whilst under the shadow of Mozart and Bach, Desplat uses natural sounds to pair with the life-giving water and wonderment of the film. His score is not the centerpiece, but he does help bring all the pieces together.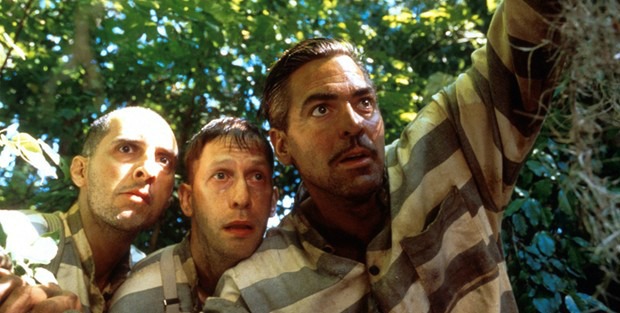 Rikki Elizabeth Stinnette:
The Terminal, John Williams: This is one of Williams' overlooked gems. It boasts a great combination of jazz and Eastern European tones, and it adds to Viktor Navorski's quirky characterization.
Pirates of the Caribbean: Curse of the Black Pearl, Klaus Badelt: When scholars say that soundtracks are the next wave of classical music, this is the score I think about. Adventurous, catchy, fun, and not too "Hans Zimmer" bombastic.
How to Train Your Dragon, John Powell: Another catchy score. It makes bagpipes sound cool.
O Brother, Where Art Thou, various: This movie would be much less rich without its authentically Southern soundtrack. I love how it ties the Odysseus mythos with rural American culture.
Beauty and the Beast, Howard Ashman and Alan Menken: Do musicals count? If so, this is Disney's best. The opening prelude that introduces the Beast's castle still sends chills down my spine.
James Banks:
"The King of Devil's Island" Johan Söderqvist. A song of experience in a boy's correctional facility; they irony plays well and constantly reminds the viewer that the film is a memory of things lost.
"The Lives of Others" Gabriel Yared. The reason a score is important is because it reminds the audience to empathize. For instance, the Dardenelles Brothers' movies seem cold and naturalistic because they lack musical scores. "The Lives of Others" could easily have been "The Lives of Others" had it not been for the non-diegetic track which keeps the audience focused on the humanity at the center of a society that can only thrive by suppressing it.
"Jurassic Park" John Williams. No score captures the thrill of discovery and adventure better.
"The Insider" Lisa Gerard and Pieter Bourke. Combined with Dante Spinotti's cinematography, the score gives the film the surrealistic aura that underwrites its theme of the loneliness of those who practice integrity.
(Going a bit outside the timeframe) "The Thin Blue Line" Philip Glass. The theme which requires some patience before it pays off, but then, so does waiting on death row for a decade before being released.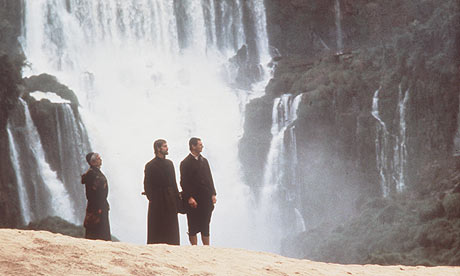 Sean Johnson:
Anton Karas, The Third Man: This one is a few decades outside the parameters of the week's list but [undefended]. The zither score remains one of the most unique in cinema, and the contrast between the slow pace of the film's first act and the kinetic tension of the music heightens the drama of the mystery and draws it on seamlessly into the climactic manhunt.
Ennio Morricone, The Mission: If anyone could turn a film about missionaries into a spaghetti Western, it's Morricone. Appropriately pious, the score certainly and effortlessly ascends in places, but in others it is grounded and hardened to communicate the reality of life in a new and hostile place—a frontier.
T Bone Burnett, Inside Llewyn Davis: No original tunes here, but the selection and recording of the tracks is seldom done so well. The folk singers in the film aren't singing 60's-era folk songs, they're singing the traditional American tunes that would become modern "Folk" songs. Add to that Oscar Isaac's undubbed plucking and singing and the experience is real and seamless.
Nick Cave & Warren Ellis, The Assassination of Jesse James by the Coward Robert Ford: From the sweeping, mournful landscape shots, to the close, minimal performances, Cave's and Ellis' score matches and holds every element of the film in careful balance.
Alexander Desplat, The Fantastic Mr. Fox: The "Grand Budapest" score is superior for reasons given above, but this one deserves a mention here as the sandbox where Desplat started to work out the playful-pathetic balance necessary for a Wes Anderson score. Evoking sympathy for animals made of stuffing is as much the composer's job as anyone else's.
HM to Ocean's 12; that Euro-Jazz score is one of Holmes' best.
Timothy Lawrence:
1. The Assassination of Jesse James by the Coward Robert Ford (Nick Cave & Warren Ellis)
2. All Is Lost (Alex Ebert)
3. Pan's Labyrinth (Javier Navarrete)
4. A.I. Artificial Intelligence (John Williams)
5. Under the Skin (Mica Levi)