With Valentine's Day just behind us, this month, FilmFisher's writers were asked to pick their top five cinematic marriages. These could be either films about marriage, or striking examples – good or bad – of onscreen marriage. Credit for the idea behind this prompt goes to Robert Brown.
Timothy Lawrence
Ryan's Daughter (David Lean, 1970)
A New Leaf and The Heartbreak Kid (Elaine May, 1971 and 1972)
Eyes Wide Shut (Stanley Kubrick, 1999)
Certified Copy (Abbas Kiarostami, 2010)
Phantom Thread (Paul Thomas Anderson, 2017)
Josiah Dyches
The Godfather (1972)
Moonrise Kingdom (2012)
The Royal Tenenbaums (2001)
Braveheart (1995)
Ok, here's my "brief defense." (And I'm well aware this is more than a little bit of a stretch) My last pick is Call Me By Your Name (2017), but only for the end. Spoilers, if you haven't seen the movie. Basically at the end, Armie Hammer's Oliver leaves protagonist Elio after sharing a poignant summer with him. During Hanukkah, Oliver calls Elio and informs him that he is engaged, and it breaks Elio's heart. Before hanging up, Oliver tells Elio that he "remembers everything", and then sets down the phone. We never see this from Oliver's point of view, but Elio's subsequent reaction is enough to convey the absolute pain of something like this happening.
William Connor Devlin
Paris, Texas (Wim Wenders, 1984)
Mulholland Drive (David Lynch, 2001)
Phantom of the Paradise (Brian De Palma, 1974)
Written on the Wind (Douglas Sirk, 1956)
Blue Valentine (Derek Cianfrance, 2010)
Remy Wilkins
Junebug (2005, Phil Morrison)
Paterson (2017, Jim Jarmusch)
Before Midnight (2013, Richard Linklater)
A Separation (2001, Asghar Farhadi)
A Most Violent Year (2014, J.C. Chandor)
My entire defense for A Most Violent Year would be the gif of Jess Chastain flicking her cig: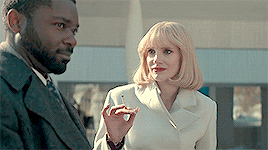 Joel Bourgeois
Attack of the Clones (George Lucas)
The Tree of Life (Terry Malick)
Song to Song (Terry Malick)
The Last Picture Show (Peter Bogdanovich)
The Squid and the Whale (Noah Baumbach)
Jackson De Vight
Up (Pete Docter, 2009)
Inception (Chris Nolan, 2010)
A Quiet Place (John Krasinski, 2017)
"The Gal Who Got Rattled" segment from The Ballad of Buster Scruggs (The Corn Brothers, 2018)
A Separation (Asghar Farhadi, 2011)
Royce Benson
Blue Valentine (Derek Cianfrance, 2010)
Manchester by the Sea (Kenneth Lonergan, 2016)
500 Days of Summer (Marc Webb, 2009)
A Ghost Story (David Lowery, 2017)
Paterson (Jim Jarmusch, 2016)
At the end of 500, Summer gets engaged, sending Tom into a deep depression. It's the last quarter of the film, but it still counts. Just realized that most of these are pretty depressing…
Travis Kyker
The Godfather Part II (Francis Ford Coppola, 1974)
The Wind Rises (Hayao Miyazaki, 2013)
Rebecca (Alfred Hitchcock, 1940)
Punch-Drunk Love (Paul Thomas Anderson, 2002)
Game Night (John Francis Daley & Jonathan M. Goldstein, 2018)
AC Gleason
True Lies. All marriages are based on false selves, but getting to truly know each other is the adventure if you commit to it.
The Abyss (special edition). Marital reconciliation literally saves the human race. I think Cameron probably has an unrealistic view of what marriage is and what it can do, which is why he's been married so many times and why he's made some of the best films about marriage. Realism in "art" is overrated.
Outlaw King. Excellent depiction of the complicated beauty and power of arranged marriage.
The African Queen. Eucatastrophic love.
Casablanca. Makes us root for adultery but marriage wins and so does society.
Robert Brown
Conventional wisdom would say that most movies either end with the euphoric beginning of a marriage or begin with its bitter end. I wanted to challenge that narrative by highlighting some movies that portray marriages in the middle that are healthy and instructive:
William Powell and Myrna Loy's legendary chemistry would make any of the six Thin Man films worth watching, but the third one, Another Thin Man (1939), has this added bonus: it lifts a scene right out of Chesterton's Manalive (probably accidentally). One of the ways Nick and Nora Charles stay in love is by pretending they've never met before.
In It's a Wonderful Life (1946), George Bailey (James Stewart) discovers that his marriage to Mary Hatch (Donna Reed), far from distracting him from his sense of mission and vocation, is actually one of the key reasons he is able to do real good in the world.
[To a lesser extent—but I'd hate to leave it out—the same idea is at play in 2006's Amazing Grace. In it William Wilberforce (Ioan Gruffud) regains his resolve to fight the slave trade (and recovers his singing voice, literally at the altar) when he marries Barbara Spooner (Romola Garai). After the wedding, however, the marriage subplot largely recedes into the background, hence the bracketing of this example.]
3. In A Beautiful Mind (2001), the courtship of John and Alicia Nash (Russell Crowe and Jennifer Connelly) is sparked by the volatile fuel of eros, but through adversity their marriage matures and is sustained by agape.
4. In The New World (2005), John Rolfe (Christian Bale) marries Pocahontas (Q'orianka Kilcher), even though she is still in love with Captain Smith (Colin Farrell). When Smith reappears, their commitment to each other is tested and confirmed. Ultimately it is death and not another lover that severs their bond, all too soon – yet neither of them parts with any regrets.
5. Tie: In Disney movies it is hard to find a functional nuclear family, and in superhero movies the heroes rarely ever get married or have kids. But in The Emperor's New Groove (2000) and Avengers: Age of Ultron (2015), the marriages and households of Pacha and Chicha (John Goodman and Wendie Malick) and Clint and Laura Barton (Jeremy Renner and Linda Cardellini) serve as oases of stability and joy in the midst of worlds turned upside down by self-love and self-reliance. (Surely it isn't a coincidence that Tony Stark is a less over-the-top version of Kuzco, or that both families live in the countryside, have two young kids (a boy and a girl), and are expecting a third.)
Tom Upjohn
Suspicion (Alfred Hitchcock, 1941)
Eraserhead (David Lynch, 1977)
In the Mood for Love (Wong Kar-Wai, 2000)
The Incredibles (Brad Bird, 2004)
Take Shelter (Jeff Nichols, 2011)
Whew, that was a close one! I almost put Shrek 2 on my list. Also, amen to It's a Wonderful Life.
Joshua Gibbs
Lemme just say that there's a world of difference between a film about romance and a film about marriage.