This week, top five cinematic shopping scenes. Barry Egan buying pudding in Punch Drunk Love was a given.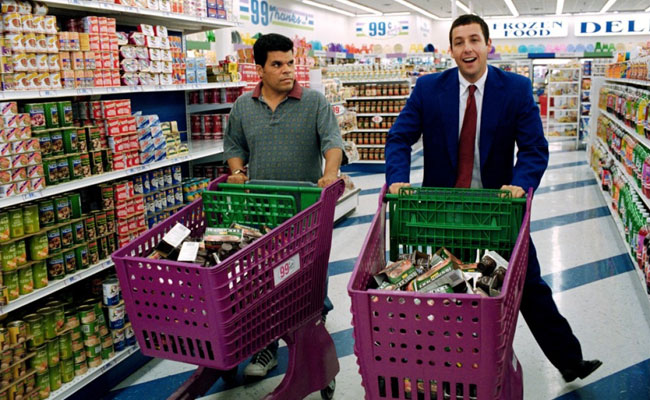 Remy Wilkins:
The Dude post-dating a check for .69 in The Big Lebowski
Shigeru shopping for Apollo Choco in Nobody Knows
Supermarket Banjo Fight Scene in Zombieland
Robert Neville renting movies in I Am Legend
Uncle Owen buying droids in Star Wars
Brian Murnion:
Juliette – lonely, quiet, sad – shops for clothes in a French department store: 2 or 3 Things I Know About Her (1967)
Norma Desmond purchases new suits for Joe Gillis: Sunset Boulevard (1950)
McLovin tries to buy booze but gets suckered punched: Superbad (2007)
Anthony, Dignan, and Bob buy a hand gun from a private seller: Bottle Rocket (1996)
Mira loans her fiance, Orfeu, money to buy her an engagement ring: Black Orpheus (1959)
Brian notes: Rem, I almost listed Daniel Plainview acquiring new land in There Will Be Blood. Almost. But talk about a shopping spree.
Timothy Lawrence
Tuco selects a gun in "The Good, the Bad, and the Ugly"
Anton Chigurh proposes a coin toss at a gas station in "No Country For Old Men"
Scottie takes Julie shopping for clothes in "Vertigo"
Marina and Nick dance around a supermarket in "To the Wonder"
Nicholas Angel leads a police assault on the supermarket in "Hot Fuzz"
Jon Paul Pope:
Survivors discover an abandoned grocery store, 28 Days Later.
Charlie and Linus shop for a Christmas tree, A Charlie Brown Christmas.
Father attempts to buy "I Just Called to Say I Love You" for his daughter's birthday, High Fidelity.
Bruce Willis finds the perfect weapon in a pawn shop, Pulp Fiction.
Lloyd Christmas uses the last of the money to get "the bare essentials," Dumb and Dumber.
Remy Wilkins remarks: "WHY DON"T I OWN THIS?!!"
Elizabeth Stinnette:
Stanley Tucci takes Anne Hathaway for an emergency shopping spree, The Devil Wears Prada
Nicholas Cage goes suit shopping, The Family Man
Viktor Navorski buys a Whopper with quarters, The Terminal
Buddy in the mall, Elf
Julia Roberts snubs a snobby clothing shop, Pretty Woman
Nate Douglas :
Batman shops for spelunking gear—Batman Begins
"Be better than the Gap"—Crazy, Stupid, Love
William buys cereal—The Hurt Locker
Kevin at the grocery store checkout—Home Alone
George Banks removes the superfluous buns—Father of the Bride
Joshua Gibbs:
Joe Banks buys luggage in Joe Vs The Volcano.
Phil Parma orders some magazines from The Pink Dot in Magnolia.
Kermit buys a 1946 Ford Woodie for $11.95 from Milton Berle in The Muppet Movie.
The Dude and Walter try to buy "a modesty priced receptacle" for Donny in The Big Lebowski.
Pretty much all of Brewster's Millions.