Undefended: Vocal Performances
This week, top five vocal performances from a motion picture.
Sean Johnson:
Roger Miller's "Not In Nottingham" in Disney's Robin Hood: An education in mournful sadness not likely to be soon forgotten by most children who knew the movie—never to be forgotten by me. Miller's no crooner, but a good folk song is a perfectly acceptable substitute for a great voice.
Oscar Isaac's "Hang Me, Oh Hang Me" in Inside Llewyn Davis: There are plenty of decent vocal performances in movies, but this is one of the few that I remember being a real surprise. Isaac opening this cyclical film (the whole movie is one big folk song: refrain—>sad stuff—>more sad stuff—>refrain) singing about his death, which—in the song—has already occurred, is too hair-raisingly perfect not to be on the list. "If it's never been new and it never gets old, it's a folk song."
Heath Ledger, "Can't Take My Eyes Off You" in Ten Things I Hate About You : Most of Shakespeare's comedies were meant to include a little music, and this adaptation does a pretty good job in that quarter. Ledger's grand romantic gesture, though, features an unexpectedly crisp performance of Frankie Valli's crooned classic. If it can put a smile on the shrew's face, who are we to be unimpressed?
Audrey Hepburn's "Moon River" in Breakfast at Tiffany's : Yep.
Patrick Stewart's "A British Tar" in Star Trek: Insurrection : Gilbert and Sullivan may have been the frat house comedy of the Victorian era, but they're classy as heck now, and Stewart could make eating a Jack-In-the-Box taco with no hands look sophisticated. Add space ships to Stewart's fine Anglo-baritone and obvious glee, and you have a number for the ages.
H.M.: Evan Rachel Wood's "If I Fell" in Across the Universe : In 120 minutes of goofy, loosely connected fan-fic music videos, this number stands out as the only clean and thoughtful approach to the greatest music catalog on the planet.
Sean Pope:
By far … "The Beautiful Ones" scene from Purple Rain by Prince. Every "whoo" is perfectly performed. No wonder Apollonia fell for him.
"Suo Gan" from Empire of the Sun. Before the Bat-rasp, a young Christian Bale had the angelic voice of a choir boy.
"Johanna" from Sweeny Todd. Jamie Cambell Bower pulls off one of Sondheim's best melodies. And the challenging intonation is spot on.
"Love (Christmas) Is All Around" from Love Actually. Bill Nighy's frustration is delightful.
"The Steward of Gondor" from LotR: The Return of the King. Billy Boyd as Pippin delivers a heart-wrenching and unadorned (in a nothing if not adorned film) rendition of this Tolkien poem set to music.
Timothy Lawrence:
Oscar Isaac in "Inside Llewyn Davis"
Robert Mitchum and Lillian Gish in "Night of the Hunter"
Takashi Shimura in "Ikiru"
Nick Cave in "The Assassination of Jesse James by the Coward Robert Ford"
Aaron Wolff in "A Serious Man"
Rikki Elizabeth Stinnette:
Julie Andrews in "The Sound of Music." That range!
Reese Witherspoon in "Walk the Line." Reese's voice sounded better than June Carter's.
Judy Garland in "The Wizard of Oz." Talk about iconic movie music.
Dooley Wilson in "Casablanca." Dooley has such a unique voice, and his arrangement of many classic jazz age songs still resounds today.
Zooey Deschanel in "Elf." She only gets one song, but I love her tone.
Remy Wilkins:
The cast of Magnolia singing Wise Up: it's Jason Robards that really gets me though.
The Rooster from Robin Hood: ya nailed it, Sean
The Minstrel of Gondor: Frodo of the Nine Fingers is such a hot track
Paul Rudd in I Love You Man singing Tom Sawyer: hate this movie bc I liked this movie and it made me watch several Rudd movies before I finally wised up
Baloo singing The Bear Necessities: this is my Hakuna Matata
Joshua Gibbs:
"Johnny B Goode" in "Back to the Future" by whoever was stunt-vocaling for Michael J Fox": because it wouldn't have mattered if the crowd had been 25,000 deep.
Everyone in "Almost Famous" sings "Tiny Dancer" on the bus, magically making everything okay: the lesser version of what Remy already took for his first pick.
"Little Fat Man" by David Bowie in "Extras": everyone is secretly afraid that pop music could be turned against you in just such fashion.
"The Diva Dance Opera" in "The Fifth Element": Undefended.
"Whoop That Trick" by Terrence Howard in "Hustle and Flow": Terrence Howard sells this one scene so hard an entire career comes out of it. So much rap music comes out of air conditioned studios in LA where diamond-toothed sloths smoke Ricky Fitts' weed and make a decent rhyme every twenty bars, but this scene from "Hustle and Flow" is unexpected, and emerges out of thin air. A scrawny white kid, a pregnant woman, and a church organist staple egg cartons to the wall of a ramshackle apartment and enjoy two minutes of scrappy transcendence.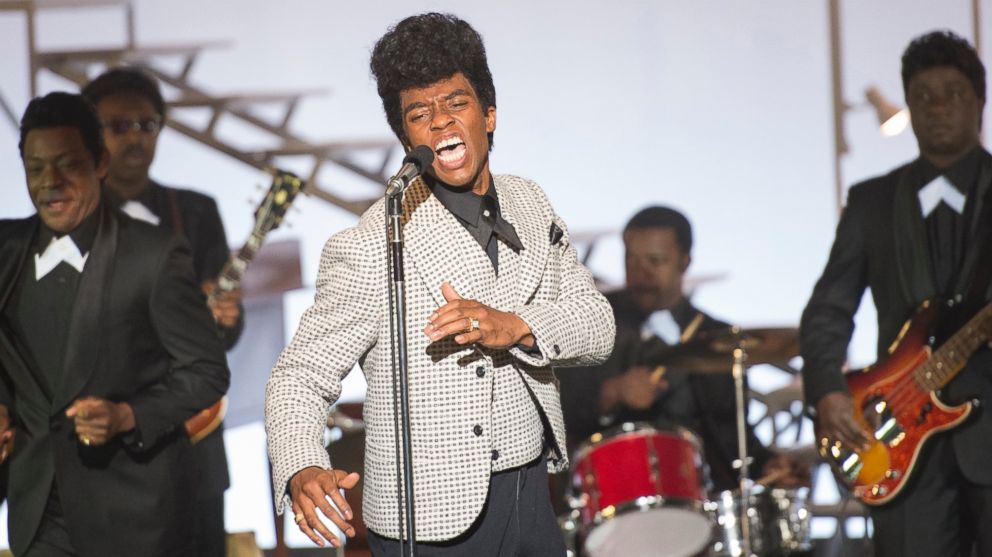 Fraser Martens:
These are not necessarily good, but I remembered them, so they must be memorable. I could easily have just listed five songs from The Blues Brothers, but resisted.
Chadwick Boseman Stealing Little Richard's stage, Get On Up: Any of the musical scenes from Get On Up could go here, because Chadwick Boseman absolutely owns James Brown in this movie, but the scene where he and Famous Flames take over a Little Richard show at intermission is the most memorable.
Tom Cruise, "Little Deuce Coupe," War Of The Worlds: The thing about inserting singing into movies is that it doesn't always provide the emotional resonance it's meant to. Tom Cruise singing "Little Deuce Coupe," for example? Not as touching as Spielberg seems to think.
Aretha Franklin, "Think!" : The Blues Brothers: You can't say no to Aretha's singing though. Not when she's melting the paint off the walls of her soul food emporium with "Think."Almost as good: Jake and Elwood doing flips and dancing their way through "Everybody Needs Somebody To Love" while also singing their lungs out.
Seu Jorge, Bowie songs, "The Life Aquatic With Steve Zissou" : The Life Aquatic isn't a movie I love nearly as much as most of Anderson's movies, but wherever the idea of having Seu Jorge sing Portuguese covers of David Bowie songs came from, it was inspired.
Vincent Price, "Goodbye, So Soon" : The Great Mouse Detective: I was initially going to mention the weirdly sexual "Let Me Be Good To You" number, but then I realized the best thing in the movie may well be Vincent Price crooning threats to Basil on his home recording of "Goodbye, So Soon." Who would have thought Vincent Price could sing?
Doesn't really count but oh well: Michael J. Fox plays "Johnny B. Goode," Back to the Future. As Josh said, he isn't singing it, but it really is him playing, and he makes it look irresistible.